×
Warning message
Last import of users from Drupal Production environment ran more than 7 days ago. Import users by accessing /admin/config/live-importer/drupal-run
Last import of nodes from Drupal Production environment ran more than 7 days ago. Import nodes by accessing /admin/config/live-importer/drupal-run
Unpublished
Opinions
About the author
Advocates for family preservation against unwarranted intervention by government funded non profit agencies.
Systemic Neglect by Omission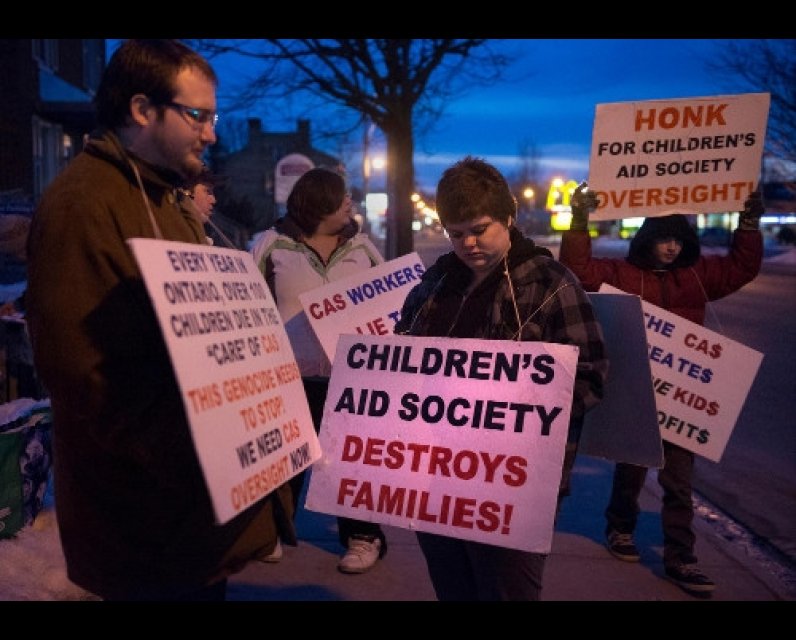 If the society says you're a client, you're a client.
The Ontario children's aid society has more powers than any other non government or government agency in Canada.
Besides having refused to obey Ontario law and register with the College of Social Work for more than 18 years without any  repercussions or loss of funding, with the assistance of the schools the society interview children in secret without an advocate present, unrecorded. With police assistance enter homes without warrants, conduct searches and apprehend a child or children without due process and neither Ontario's Privacy Commissioner nor Canada's Federal counter part have the power to review client file disclosures that have been blacked out by the society. 
According Former Privacy Commissioner Ann Cavoukian -
"As the law stands now clients of the Ontario Children's Aid Society under Wynne's liberals are routinely denied a timely (often heavily censored) file disclosure before the court begins making decisions and the clients can not request files/disclosure under the Freedom of Information Act nor can censored information reviewed by the Privacy Commissioner of Ontario or the federal counter-part. 
Many citizens complain that CAS agencies appear to operate under a veil of secrecy. Unlicensed and untrained CAS workers are making decisions which are literally destroying families, yet there is little or no accountability for their actions short of a lawsuit after the damage is done.
With CAS actions shrouded in secrecy, and media investigations chilled by CAS lawyers, who claim to be protecting the privacy rights of all involved case workers have "as much power as God," in the words of one former social worker. And they use it according to their diverse subjective impulses with virtually no checks and balances.
What happens in the society stays in the society.
Impoverished: Report shines light on poverty's role on kids in CAS system. 
The effect of provincial policies on struggling families was especially apparent in the late 1990s, when the Conservative government slashed welfare payments and social service funding while at the same time, it introduced in child protection the notion of maltreatment by "omission," including not having enough food in the home and this after giving the society what amounted to an unlimited funding scheme. The number of children taken into care spiked as did their funding. 
"The ministry has been pretty clear with us that advocacy is not part of our mandate," Goodman said speaking for the society. "It's not like they're asking for the (poverty) data. They're not." Goodman then when on to suggest the silence suited the government more than the silence suited the society's funding goals.
What does "In the Best Interest of the Child" really mean?
In practice it means..
You have the right to cooperate.
You have the right to sign everything the society tells you to.
You have the right to answer all the society's questions.
You have the right to try and prove you didn't abuse or neglect our child/children.
You have the right to accept the society's services and terms of service.
You have the right to privacy and your expected to use it.
You don't have the right to see or dispute anything the society decides to put in your file.
You have the right to be labeled disgruntled if you feel your rights as a Canadian citizen are being violated and any failure to cooperate will be seen as grounds for suspicion and an increased probability of apprehension.
If we accept excuses and don't rigidly defend every single Canadian citizen's right to the protection of the Constitution, the Charter of Rights and Fundamental Justice, it's all just a bunch of pretty wallpaper.
The principles of fundamental justice are specific legal principles that command "significant societal consensus" as "fundamental to the way in which the legal system ought fairly to operate."
There is a need for child protection/welfare in Canada but the doesn't mean we need the children's aid society..
----------------------------
So lets take a minute and be honest with ourselves and cut out all the pain and suffering, save a ton of money and get rid of that stinking cesspit of a children's aid society and just make it illegal for all underprivileged Canadians to have families.
It's not like the government is going to make sure there's enough jobs for everyone anytime soon, you what I mean and what's the point of only paying hundreds millions of dollars in welfare if it's only going to cost the taxpayers billions of dollars in "child protection" with nothing to show for the investment but a whole lot of nothing and a mountain of private and class action lawsuits?
If the government isn't going ensure there are enough jobs and not going ensure poor families who currently have no hope for meaningful employment have enough to care for their families and meet CAS standards it would be less two-faced if it was just illegal for poor people to have families than to let a pack of scheming child poaching funding predators abuse them.
ARE THERE ANY REASONS NOT TO TRUST THE 44 of 47 AGENCIES REPRESENTED BY OACAS?
In leaked memo, Peel CAS staff asked to keep cases open to retain funding. March 14, 2013.
Barbara Kay: Children's aid societies gone rogue. April 16, 2014.
Judge Harper rules CAS acted in bad faith.
Though the Ontario children's aid society has claimed for years family courts judges provide important oversight in child protection matters (which doesn't appear to be in their job description) the family court judge in this case did nothing at all to prevent this tragedy and if anything was a contributing factor.
But as it turns out some judges like  Judge Harper outside the family courts do provide important oversight and insight into the many faces of Ontario children's aid society.
CAS vows to appeal ruling of bad faith.  April 15, 2014
Then, not reported by Ontario's mainstream media.
Children's Aid Society of London and Middlesex v. C.B.D.: Interests of the Children Lead to Quashing of Appeal in Child Protection Context. Oct 31, 2014
In a National Post feature article in June 2009, Kevin Libin portrayed an industry in which abuses are all too common. One source, a professor of social work, claims that a shocking 15%-20% of children under CAS oversight suffer injury or neglect. Several CAS insiders whom Libin interviewed regard the situation as systemically hopeless. A clinical psychologist with decades of experience advocating for children said, "I would love to just demolish the system and start from scratch again."
Ontario's anti-SLAPP (strategic litigation against public participation) law came into force in 2015. The law is intended to discourage lawsuits aimed at the right of citizens to express themselves freely on matters of public interest without facing the threat of proceedings intended primarily to silence them. Nov 8, 2016.
IT'S NOT THE SYSTEM THAT LACKS ETHICS, MORALS AND ACCOUNTABILITY OR ACTS IN BAD FAITH - IT'S THE PEOPLE ENTRUSTED TO OVERSEE THE SYSTEM THAT LACK THOSE THINGS. IT NOT BAD SYSTEM THAT MAKES GOOD WORKERS BAD - IT'S BAD WORKERS THAT MAKE A SYSTEM THAT'S NEITHER GOOD NOR BAD, BAD.