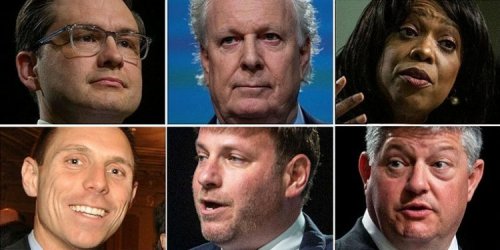 TONIGHT @ 8 PM EDT: Who will emerge the next leader of the Conservative Party?
You'd be hard pressed to recognize them as on the same team, but that is the picture before us of the federal Conservative leadership race. Six in all have lined up to present their case as best choice to lead the party into the next election. Will they tack even further to the right?
Hello and welcome to Unpublished TV. It's been a bare-knuckle brawl in two debates so far. The party reports a record 600,000 party memberships sold, giving those people a say in who will capture the leadership.
First to declare was Carleton MP, Pierre Poilievre, in the middle of the trucker protest in Ottawa. He has grabbed the most attention and support thus far. But it's a long campaign with the vote not coming until September 10th in Ottawa.
Our Unpublished Vote question asked: Which candidate will the Conservatives select?
Our audience responded:
Pierre Poilievre = 83.02%
Patrick Brown = 5.19%
Jean Charest = 4.72%
Roman Baber = 3.77%
Leslyn Lewis = 3.30%
Scott Aitchison = 0%
If you haven't voted in our poll yet, you can still do so by clicking on the link below... 

Our Unpublished vote poll question...
Which candidate will the Conservatives select?
The results so far:
Leslyn Lewis =
Jean Charest =
Pierre Poilievre =
Patrick Brown =
Roman Baber =
Scott Aitcheson =
If you haven't voted yet, you can do so — VOTE HERE