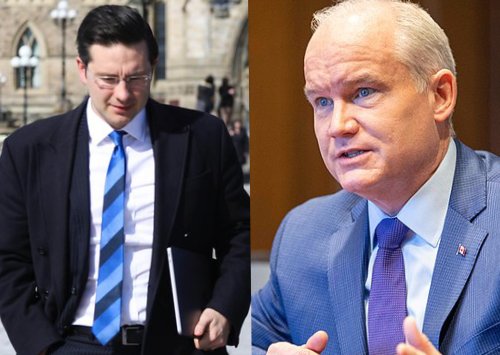 Can the Conservative Party be united?
MONDAY FEB 21 @ 8 PM EASTERN | 5 PM PACIFIC


The world has watched the occupation of downtown Ottawa for three weeks. This past weekend saw the authorities take back the streets for residents who have been living with the occupation of their city. One thing the so-called Freedom Convoy did was expose huge cracks in Canada's security and governance systems, including in the Conservatives Party's Big Blue Tent.
While some Tory MP's stood back, others wilfully egged on the truckers. It cost Erin O'Toole his job as leader of the Party. While he says he's staying on as an MP, it sets up a leadership race for a party that doesn't seem to know its identity. Will it ever unite under one leader?
With O'Toole now in the rear-view mirror, Conservatives now look toward a leadership race. Carleton MP Pierre Poilievre is the presumptive heir apparent, but others have yet to come forward.
The Conservative Party of Canada was formed in December 2003, a merger between the Progressive Conservatives and the Canadian Alliance. It aimed to bring all the like-minded Tories together, but the factions still existed. They exploded during the so-called Freedom Convoy. You wonder what it will take to keep everyone happy or will they end up splitting into two again?
Catch our show this Monday evening, 8 pm Eastern | 5 pm Pacific right here on Unpublished.ca or on our YouTube channel and Facebook page. 
If you haven't voted yet you can do so below... 

Our Unpublished vote poll question...
Can the Conservative Party of Canada be united?
The results so far:
Yes =
No =
Unsure =
If you haven't voted yet, you can do so — VOTE HERE