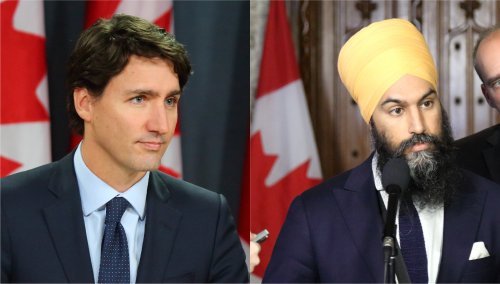 Liberal-NDP Cooperation Pact
Will The Liberal -NDP Supply and Confidence Agreement run it's full course or will the honeymoon end before 2025? Hello and welcome to Unpublished TV. 
About two weeks ago, the parties unwrapped their agreement which would see the NDP support the minority government for progress on some NDP priorities, namely dental care and a pharma program. This is different than a coalition government which it is often referred. For one, no NDP members would be in Cabinet which is often a result in a coalition. The Conservatives, whom are in the middle of a leadership race, call it "backdoor socialism" and "undemocratic ". 
Our Unpublished dot vote question asks, Will the supply and confidence agreement between the two last until 2025? Yes, No or Unsure.
The results of our survey find
0% Yes
88:46 No
11.54 Unsure
However you're watching and listening to our show, whether through our social media channels on Facebook, Twitter and YouTube, or on our podcast channels—iTunes, GooglePlay, Spotify, iHeartRadio and more—We would like to remind you that you can cast-your-vote on this topic at Unpublished.vote, and then email your MP to tell them why.
Guests:
Nelson Wiseman Professor Emeritus Dept. Political Science University of Toronto @UofT_PolSci
Tasha Kheiriddin Columnist National Post @TashaKheiriddin
Tom Parkin Commentator/ Columnist @TomPark1n
Mario Canseco President Research Co

Our Unpublished vote poll question...
Will the supply and confidence agreement between the two last until 2025?
The results so far:
Yes =
No =
Unsure =
If you haven't voted yet, you can do so — VOTE HERE
Dig Deeper
More on this issue.
NDP, Liberals upbeat about new deal as some warn of pitfalls for the 'junior partner'
Wednesday, March 23, 2022
The Free Press